I must appologize to our loyal readers we have just had and incrediblly busy couple of weeks. I know, I know that shouldn't be a good excuse for not posting for so long. But we are back and we are so happy to be back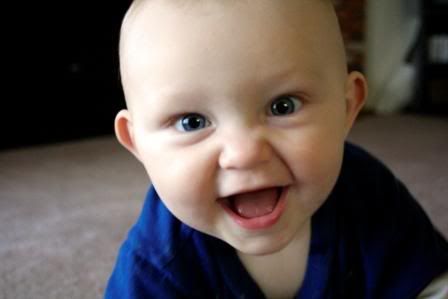 when you hear what we've been up to I'm sure you'll understand what took me so long.
Steven sucessfully graduated from ASU on December 19 and boy did we have a good time celebrating it. Steven's brother Scott and his wife Penny and 2 boys Jones and Maine flew in to be there for the graduation. It was great to have them here for Steven's big day. My brother Dallas also graduated and between his, Drews and Steven's graduation parties, we were pretty busy.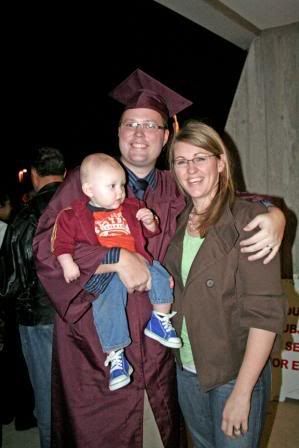 As you all know this was Jace's first Christmas and boy was he excited. Just look at that joy on that cute little face. (Just a little side note. I had to get him a "My first Chrismas" pair of Pajamas he looked so adorable in them)

Jace got some really fun toys for Christmas his favorite was his fun table that sings and plays music. And it is the perfect hight for him to help him learn how to stand and walk. He loves it. Infact we had a really hard time getting him to open any other presents.

And every little boy must have a ball =)
Jones loved trying on Uncle Steven's New Christmas shoes. Ummm... I think you have a lot of growing to do before those fit you kid.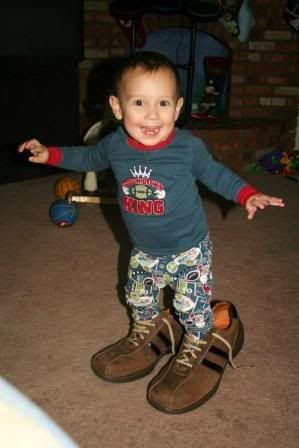 Scott and Penny spent the night for Christmas eve and Steven's Mom came over to help us open presents. It was a crazy mess afterward but we loved every minute of it. Baby Maine was so adorable snuggling with his daddy. It was his first christmas too =)


New Years was a blast! Every year Steven's family does a party at his Aunt Nancy's. We make homemade Pizza, play games, watch movies all night and of course there are always FIREWORKS! I think Jace might be a little pyro maniac in the making. He loved the fireworks! I think the Sparklers were his favorite. Then again what little kid doesn't love bright lights.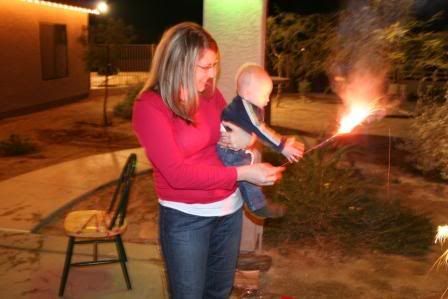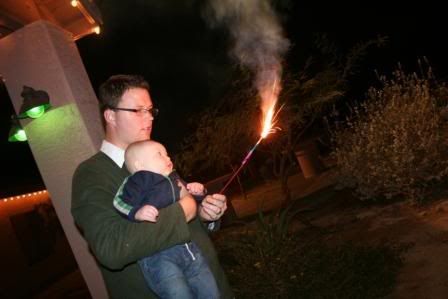 Sorry for the long gap we'll try to not let it happen again =)